Anything Glossier launches, I feel like I have to have it. After all, who dosen't want to be part of the brand's quintessentially cool universe. Their latest presentation, the uber posh, Black Tie Set is no exception.
Specially curated for the approaching party season,the Black Tie Set ($50 US) offers the essentials to effortless glam. It comes with four brand new Glossier products that will look great on everyone. The packaging is elegantly designed, true to the brand's signature  theme. Add ons include, a black ribbon (meant to be used as a versatile accessory) and an beautiful lookbook for some beauty inspiration.
The Details
No. 1 Eye Pencil in Soft Black Graphite : A shimmering charcoal grey eye pencil that gives the eyes sparkle and definition. This one is my personal favourite. It comes complete with a sharpener if you want to whip out a cat eye and a smudge tip if you fancy something smokey.
Haloscope Highlighter in Moonstone : This is a new addition to Glossier's Haloscope range and gives the cheekbones an opalescent, dewdrop glow. Strobe on!
Lip Gloss: A classic clear lip gloss. The perfect complement to the charcoal eye. Apt for a simple glossy lip or over any lipstick.
Nail Polish : The perfect pink nail colour to give you polished tips in 2 coats. Additional bonus – its quick drying!
The Black Tie : A cute addition to this set is a perfect width, black satin ribbon to add a bit of glam to your outfit. A perfect opportunity to get creative. I intend to use it as a sort of menswear inspired tie, perhaps over a white or burgundy blouse or shirtdress.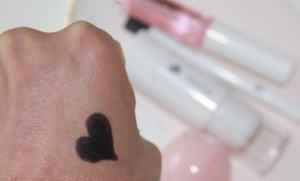 I have been playing with these goodies for a bit and the two hero products for me are the eyeliner and the Moonstone Haloscope highlighter. Great by day & night. They both last a few hours and are really handbag + travel friendly.
As is with all good things, the Black Tie Set is limited edition, so order yours before the end of the year. The eyeliner, lipgloss, Moonstone haloscope and nail polish can now be purchased individually too, but are currently limited addition as well. This is also an awesome gift idea for the makeup loving but fuss free cool person in your life. Draw, Smudge, Paint, Pout & Glow, in minutes!
—
SHOP
GLOSSIER BLACK TIE SET | NO.1 PENCIL | MOONSTONE HALOSCOPE | LIP GLOSS | NAIL POLISH
—